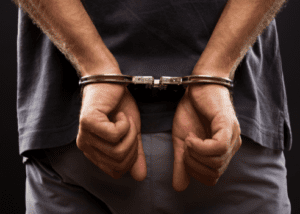 It's possible that things may go awry on your Las Vegas vacation. Many people who find themselves facing charges in Las Vegas were simply visiting to have a good time and ended up in a situation where things got out of control. If you find yourself in this situation, it's important to understand what happens when you get 5 Things To Do If You are Arrested in Las Vegas. 
Some of the most common types of arrests that occur in Las Vegas include Driving Under the Influence (DUI), domestic violence, public intoxication, drug possession, and sex crimes such as solicitation and sexual assault. Much of the time, these charges will be considered a misdemeanor, but more serious charges such as a felony may be faced depending on the circumstances of the case. 
Let's take a look at what happens when you get 5 Things To Do If You are Arrested in Las Vegas and how a Las Vegas lawyer can help.
Getting Arrested in Las Vegas  
If you've never been arrested before, then you'll probably be scared and unprepared for what's to come. The Nevada Revised Statute (NRS) 171.104 defines arrest as "the taking of a person into custody" as authorized by law. In Nevada, the police may arrest someone when there is probable cause to believe the suspect committed a crime. 
In some cases, a person may be detained first to determine whether or not they should be taken into police custody. If a person is being detained, they must give their name to identify themselves but are not required to answer any other questions. The detainee may be searched on the scene and any possible threats such as a weapon may be seized at this time to ensure the safety of the public. 
Detentions must be swift and must occur in the location where the police encountered the suspect. If the detainee has been cleared and is not being arrested, they are free to go, but if the detainee is determined to be arrested, they will be handcuffed and taken into police custody as soon as possible.  
The Arrest Process
During the arrest process, the arresting officer will verbally inform the suspect(s) that they are under arrest. The officer will place handcuffs on the suspect(s) which are used to transfer them to the police station where they will be kept in custody. During this time, the arresting officer will also read the suspect(s) their Miranda rights which state that the arrestee has the right to remain silent and has the right to an attorney. Upon arrival at the police station, the arrestee will be booked and processed which includes the taking of their mugshot and fingerprints. Suspects will then remain in police custody until their case has been heard by a judge. 
Most arrestees will be eligible to be released on bail or own recognizance in Nevada. This allows an arrested person to await their hearing outside of police custody under some restrictions. Regardless if bail is granted or not, a court date will be scheduled and the suspect must be present for their arraignment which is a formal reading of their charges. Failure to show up to this court date may result in increased charges, fines, and consequences. 
5 Things To Do If You're Arrested in Las Vegas
#1 Take Advantage of Your Miranda Rights
Miranda rights, also called Miranda warnings, are a notification that is given by an arresting officer to an arrestee. These warnings are to inform suspects of their Fifth and Sixth Amendment rights which state that you have the right to remain silent, meaning you are not required to answer any interrogating questions, and you have the right to an attorney. Miranda warnings are as follows: 
"You have the right to remain silent. Anything you say can and will be used against you in a court of law. You have the right to an attorney. If you cannot afford an attorney, one will be provided for you. Do you understand the rights I have just read to you?"
#2 Ask To Speak With a Las Vegas Lawyer
Before speaking with the police, it's in your best interest to consult with a Las Vegas lawyer to see how you should proceed following your arrest. Your attorney will help you better understand your charges and will be able to assist you throughout your questioning. You have the right to have your lawyer present during the custodial interrogation which can help you avoid making incriminating statements and prevents further legal trouble. 
#3 Seek Bail
The first thing on anyone's mind who gets arrested is "how am I going to get out of here?".  Being in police custody is never fun and the goal is to get you out as soon as possible. To do this, you need to be able to post bail. Typically, an arrestee will be eligible for bail and if you are able to meet the requirements of your bail, your Las Vegas lawyer can help you get out of police custody. In order to post bail, one must do one of the following:
Pay the bail amount either through cash or check

Sign over the rights of ownership of a property they intend to use as collateral payment

Give the court a bond, or a promise to appear in court. Failure to appear in court will result in you having to pay the full sum of your bail to the court

Sign a declaration saying that you will show up in court when required. This is considered getting released on a personal recognizance
#4 Show Up For Court 
After you've been arrested, whether you were released on bail or remain in police custody, you are required to show up to the court for your arraignment. This date will be given to you after your arrest and failure to present yourself to this appointment may result in the court issuing an arrest warrant to bring you back into police custody. If this occurs, you will likely face more serious charges and consequences, so it is in your best interest to appear in court on the day they tell you to. 
#5 Seal Your Record 
While Nevada doesn't expunge criminal records, you can have your records sealed. This will make your record invisible to potential employers, which can greatly improve your employment opportunities. To seal your record, be sure to reach out to your Las Vegas lawyer. They'll guide you through the steps to seal your record and ensure it gets done properly. 
Contact Las Vegas Lawyers at Spartacus Law Firm 
If you're a medical professional facing domestic violence, DUI, or other legal charges, connect with the experts at Spartacus Law Firm. Spartacus Law Firm will fight to make sure that your rights are protected and will work aggressively to represent you to avoid penalties, fines, and damage to your career. Contact us today for a free in-person or virtual consultation. We are available 24/7 to assist.
For a FREE initial consultation, call (702) 660-1234.