State vs. Individual, 2022
Charge: Use Of A Minor As Subject of Sexual Portrayal In A Performance, Luring Children Or Mentally Ill Persons With Use Of Technology With The Intent To Engage In Sexual Conduct, Kidnapping Of A Minor, Lewdness With A Child Under 16, Statutory Sexual Seduction.
Disposition: Case Negotiated to Misdemeanor Lewd And/Or Dissolute Conduct.
State vs. Individual, 2022
Charge: Theft, Value Less Than $650.00, Burglary While In Possession Of A Firearm Or Deadly Weapon, Robbery - With The Use Of A Deadly Weapon Or Tear Gas, Kidnapping, First Degree - With The Use Of A Deadly Weapon Or Tear Gas.
Disposition: Case Dismissed
USA vs. Individual, 2022
Charge: Violation of Title 18, United States Code, Section 922(g)
Disposition: Motion To Suppress Granted, Government Appealed To The 9th Circuit Court of Appeals, Suppression Upheld, Case Dismissed
State vs. Individual, 2022
Charge: Coercion Sexually Motivated
Disposition: Case Dismissed
Facing the potential consequences of an arrest can be one of the most difficult experiences in your life. We strive to minimize the harsh consequences of an arrest and deliver quality legal representation to persons accused of committing a criminal offense. Although our office is in Las Vegas, NV, we extend our services to those in Reno, NV, and the surrounding areas.
Those facing serious criminal charges deserve to be defended by a top Las Vegas criminal defense attorney that has extensive knowledge of Nevada law and trial-experience. At the Spartacus Law Firm, we adopt an aggressive trial-centered approach to persons accused of committing a crime. We provide aggressive, knowledgeable, quality representation at every stage of a criminal case, from the pre-arrest investigation, bond reduction hearings, arraignment, disposition hearings, motion hearings, and a jury trial. The earlier you can invoke quality legal representation the chances of harsh consequences, like an arrest, can be mitigated or avoided altogether.
What Should You Do If Charged With a Crime?
First things first, it's important that you speak with one of the best Las Vegas criminal defense attorneys as soon as possible. Getting speedy legal help is crucial to ensure a defendant's rights are protected and enough time is allowed to create a strong defense. In many cases, a person may be charged with a crime before they are arrested, if this happens, a judge will issue an arrest warrant. If the police find you, they will arrest you. At this time, the police must give you a copy of the warrant that states the charge and explains why you're being arrested. Regardless of why you are arrested, you must know that you have the constitutional right to the following:
Remain silent
Have an attorney to represent you
Remember, before you speak with or try to explain yourself to a police officer make sure you or a family member contact a Las Vegas criminal defense attorney first. The Spartacus Law Firm will make sure your rights are fully protected and help you understand the best way to proceed. If you were denied these rights at any time, your rights may have been violated and you must let your attorney know this at once, you may have grounds to suppress evidence, or challenge a search of your residence or vehicle. It's important to understand that if you do decide to speak to law enforcement, your statements will be on record and they may be misconstrued. This means that there is a possibility that these statements could be used against you. Your side of the story can best be told clearly and strategically through your experienced legal counsel.
DUI Defense
In Nevada, a DUI, otherwise known as Driving Under the Influence, means you are accused of operating a vehicle while significantly impaired by alcohol or other mind-altering substance. However, 
DUI cases in Las Vegas
 are almost never cut and dry. Even if your breathalyzer or blood test came back over the limit, there are often many issues an experienced criminal defense lawyer in Clark County can use to get the charges reduced – or even dismissed. Remember, being proactive in your defense is critical for increasing your odds of a favorable outcome.
Domestic Violence Charges
Domestic violence cases are vigorously prosecuted in the State of Nevada. If convicted of domestic violence charges in Las Vegas, you could face serious penalties including high fines and possible jail time. Keep in mind, being charged with domestic battery does not make you guilty. Many times, the accusation is very different from what really happened. As a result, you may have been improperly charged. However, the domestic violence laws in Nevada strongly favor the alleged victim, and arrests are often made with little to no evidence. If you're facing domestic violence charges, an expert Las Vegas criminal defense attorney can help you begin building your defense. Common domestic violence charges we commonly handle include the following:
Drug Crimes
No matter the circumstances, the Spartacus Law Firm will aggressively challenge the prosecutor's case and demand that they prove every element of the alleged Las Vegas drug crime beyond a reasonable doubt. Drug crimes are one of the most common types of criminal charges in Las Vegas. However, penalties for these crimes, if convicted, can be life-altering. Further, we've witnessed countless examples of prosecutors failing to have sufficient evidence to support a drug charge, or alternatively, attempting to use evidence that was improperly obtained. Protect yourself by hiring a top Las Vegas criminal defense attorney to protect your legal rights. Common drug charges we routinely represent include the following:
Federal Drug Offenses
Drug Cultivation
Drug Delivery
Drug Importation
Drug Manufacturing
Juvenile Crimes
In the state of Nevada, the juvenile court has jurisdiction over children under the age of 18 who are accused of committing a crime. It should come as no surprise that a 
juvenile offense
is a serious matter and can negatively alter a child's life if convicted. In some instances, a juvenile record can be grounds for a child being expelled from school, especially if the crime in question occurred on school property. In fact, many of the schools throughout Clark County have a strict zero-tolerance policy, particularly for drug crimes or weapon charges. There are also many more consequences that can follow a child into adulthood if they're convicted of a juvenile offense in Nevada. Any criminal accusation against a juvenile must be taken seriously and met with an aggressive legal defense.
Sex Crimes
Sex crimes are vigorously prosecuted in Nevada and can have harsh consequences on an individual's liberty and future. In fact, in some cases, a sex crime can carry a stronger penalty than a murder or homicide charge. The laws are designed to protect accusers in sex crime cases, but often times innocent people are accused of sex crimes. If you are charged and convicted of a sex crime you will be placed on the Nevada Public Safety (DPS), Sex Offender Registry, which is a public record and public information, this can have devastating consequences for an individual seeking housing or employment. See NRS 179D.117 (Tier III offenders in Nevada), NRS 179D.115 (Tier II offenders in Nevada), and NRS 179D.113 (Tier I offenders in Nevada). At the Spartacus Law Firm, we have extensive experience in the defense of cases involving:
Statutory rape
Rape
Molestation
The consequences of a conviction of a sex crime are so severe that you may not be able to leave your forum state or if you do visit a state such as Nevada, you are required to register within 48 hours of your arrival. Contact the Spartacus Law Firm to protect your rights and future if you have been accused of a sex crime.
Understanding Your Legal Rights
In order for a conviction to take place, the prosecution must satisfy certain evidentiary and due process requirements to charge an individual with a crime in Clark County, Las Vegas. The Spartacus Law Firm routinely witnesses prosecutors fail to have sufficient evidence to support a charge, or, attempt to use evidence that was improperly obtained. A Las Vegas criminal defense attorney will ensure your rights are protected. Nevada crimes are divided into two major categories: felonies and misdemeanors.
Misdemeanor
Misdemeanor crimes in Nevada
are less serious in nature and are generally punishable by payment of a fine, probation, community service, and restitution. However, misdemeanor convictions include the possibility of prison time, meaning you still need a strong defense strategy against misdemeanor charges to avoid serious consequences.
Felony
Felony convictions
in Nevada are punishable by prison sentences ranging from one year to life in prison without parole. Therefore, it is imperative you contact a Nevada criminal defense lawyer as soon as possible after a felony charge. Regardless of the specific felony crime prosecutors allege, having an experienced legal team leading your legal team gives you the best chance at achieving a fair outcome. The U.S. Constitution protects you from unfair treatment when facing serious felony charges, but without a strong attorney, the criminal justice system often fails to protect your rights. The Spartacus Law Firm will balance the scales, making the legal system work for you.
The Collateral Consequences Of A Criminal Conviction
A criminal conviction in Nevada can have many collateral consequences that stretch beyond imprisonment and fines. These consequences can include
the loss of professional licenses
, difficulty obtaining housing and new job opportunities, ineligibility for certain benefits or public funds, and even deportation for immigrants. These consequences are significant and often overlooked. However, with the help of an expert Las Vegas criminal defense attorney, there are plenty of defense strategies that can be deployed to limit criminal penalties or avoid a conviction altogether. At the Spartacus Law Firm, we're ready to help you now in the toughest criminal cases in the state and federal courts of Nevada.
Criminal Defense For Professional Licenses
The consequences of a criminal conviction can be and are often life-altering. These consequences are even more significant if you are a licensed professional such as a doctor, nurse, teacher, law enforcement officer, pharmacist, airline pilot, member of the armed forces, or other licensed professional. At the Spartacus Law Firm, we do not just focus on the specific criminal charge, but we also contemplate the potential collateral consequences a criminal accusation can have on your current or future professional career. If you are a licensed professional, you need to seek quality, aggressive, knowledgeable legal representation at the earliest stages of the criminal prosecution in order to minimize the harsh consequences a criminal accusation can have on your career, reputation, and future. Professionals that we represent and fight to protect their licenses include the following:
Accountants
Funeral Directors
Cosmetologists/Beauticians
Insurance Agents and Brokers
Real Estate Brokers
Mortgage Brokers
Day Care Providers
Engineers and Land Surveyors
Contractors
And More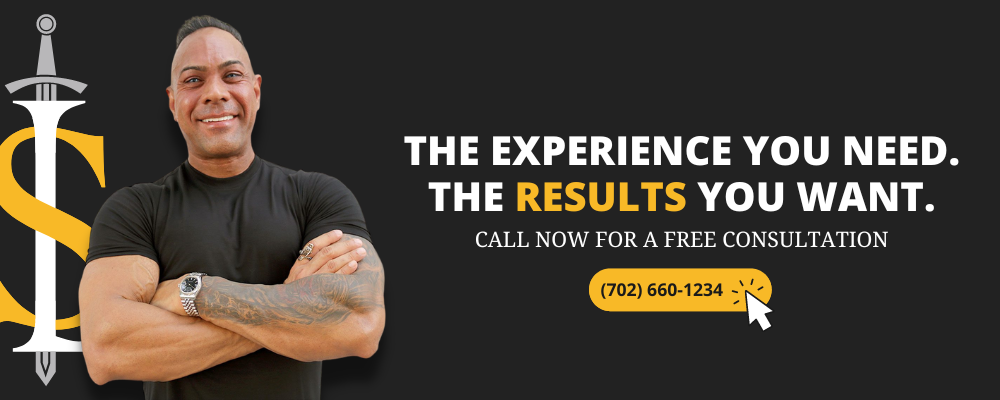 Frequently Asked Questions
How Do I Get A Copy Of The Police Report?
A Las Vegas criminal defense lawyer can always obtain police reports for their clients. In some cases, police reports can help strengthen your defense and highlight areas of importance, Conversely, you can request police reports on your own directly from the police department. For the 
Las Vegas Metropolitan Police Department
 (LVMPD), people can request reports online or 
in person
.
Can I Get My Record Sealed After A Criminal Charge?
In order to get a record sealed in Nevada, defendants must formally petition the court. In most cases, misdemeanor convictions are sealable one year after the case ends, but some misdemeanor cases can take longer before a record can be sealed. For example, misdemeanor DUI convictions require a seven-year waiting period. Additionally, any charge that gets dismissed may be sealed right away. Some of the most common defenses that can help dismiss a criminal charge include the following:
Self-defense
Accident
Consent
Lack of criminal intent
Police misconduct
Can A Criminal Defense Lawyer Appear On My Behalf In Court?
Those who are facing misdemeanor charges in Nevada usually are not required to go to court as long as their criminal defense attorney appears on their behalf. However, in felony cases, whether the defendant needs to appear in court depends on the charges and the individual judge. If any criminal case reaches trial, the defendant would then need to appear in court. Although during the COVID-19 crisis, courts have become more flexible in terms of allowing defendants to waive their appearances, so it's possible your attorney may be able to appear on your behalf or negotiate a virtual appearance.
How Can A Defense Attorney Help Me "Win" My Criminal Matter?
First off you need defense counsel that has a working knowledge of Nevada law, the criminal rules of procedure, and a willingness to litigate a case and not simply negotiate a resolution. Here are some ways that we litigate a criminal matter at the Spartacus Law Firm.
Motion to Dismiss
One of the most powerful and dispositive pre-trial motions is a Motion to Dismiss the case. Motions to dismiss can be based upon inadequate evidence to prove each and every element of the criminal offense. Motions to dismiss can also be successful if there was police or prosecutorial misconduct in your matter. Early disclosure of what is known as Brady/Giglio and Jencks material should be made by the State or Government in order to ensure that a criminal defendant has access to and sufficient time to review all relevant discovery material including exculpatory evidence. Failure to provide this material in a timely fashion can result in criminal charges being dismissed as a sanction against the prosecuting entity. Any prosecutor who has ever faced an accusation of a Brady/Giglio violation knows the uncomfortable emotions that go along with it. Suddenly it is not the defendant who is on trial but the prosecutor. At the Spartacus Law Firm we conduct a thorough review of pretrial materials and discovery along with our own independent investigation to ensure that no Brady/Giglio violations have occurred and if they have occurred we vigorously litigate the issue.
Motions in Limine
Motions in Limine are powerful defense tools to exclude certain evidence outside the presence of the jury. Excluding certain evidence can greatly weaken the prosecution's case and can result in a positive negotiated resolution or dismissal. Motions in Limine can also be used to include certain evidence which may be helpful for a defendant.
Motions to Suppress
Motions to Suppress evidence based upon 4th or 5th Amendment violations to the United States Constitution can often result in a dismissal of a criminal case. The grant of a suppression motion means the evidence can not be used in court. For example, if the police obtain a faulty warrant to search your residence and they find drugs, the object of the search may be suppressed. When the search warrant is challenged, because the warrant was faulty the drugs will be suppressed and the criminal case must be dismissed. Common evidence that may be suppressed includes:
Drugs
Guns or weapons
Confessions
Results of a drug or alcohol blood test
Financial records
Photographs
Wiretaps and audio recordings
Witness Testimony
Contact A Las Vegas Criminal Defense Attorney Today
If you are facing state or
federal criminal charges
in Clark County or the surrounding areas, it is critical that you retain the services of a skilled and aggressive Las Vegas criminal defense attorney. At the Spartacus Law Firm, our legal team has extensive experience with a variety of criminal charges and can use our legal knowledge and resources to help you obtain the best possible outcome in your case. No matter the criminal charge you're facing, call our office today for a free consultation and to learn more about how we can help.
The kind of lawyer you want handling your case is Chandon. I was at the wrong place at the wrong time, and that's all it takes for charges to be made against you and wreck your life, which is what happened to me. For well over a year, Chandon fought for me, and I was delighted with the result. Before we ever considered a trial, Chandon was able to convince the prosecutors of my case using a technique. I will always be appreciative and would have no qualms in recommending him to anyone in need of a dedicated and successful criminal defense lawyer.
Jiraiya Jason
I worked for the state of Nevada for several years and dealt with dozens of attorneys. Out of all various defense attorneys, Chandon was by far the most successful at reducing or dropping charges that I had seen. When I needed an attorney, Chandon was the only one I trusted. He is very respected by judges and prosecutors and it shows in the courtroom. He will always stay in contact with you, getting working on your case right away, and detail your best options. I wouldn't recommend using any other attorney if the outcome matters.
Banks Brayden
On behalf of my family, I want to thank Chandon for his amazing and compassionate legal representation. My family was treated with kindness. Chandon truly cares about his cases and treats his clients like humans. All of our concerns were addressed. Chandon is the best criminal lawyer we could have asked for and we are forever grateful for his service.
Genisis Aberra