Understanding The Alcohol Laws In Las Vegas, NV
Nevada's alcohol laws are more relaxed than most states. This means that you can buy beer from on or off-premise retailers anytime. Additionally, licensed retailers – whether they are package stores or gas stations – can sell beer, wine, cider, and liquor. The state also allows for alcohol delivery and growlers. However, it's important to note that there are other essential aspects of alcohol laws in Las Vegas that should be considered. For instance, the regulations governing alcohol sales. If you find yourself facing alcohol-related criminal charges in Nevada, it's critical that you understand your rights and speak with a skilled criminal defense lawyer in Las Vegas.
Minimum Alcohol Age Requirements In Nevada
Young people who want to work in the tourist industry may have questions regarding the minimum age requirements for different hospitality jobs, such as serving alcohol, tending bars, and selling alcohol for off-site consumption.
In Nevada, individuals who are 21 years or older can work as bartenders and serve alcohol. However, they must be at least 16 years old to sell alcohol for drinking off-site, including beer, wine, and liquor, and a manager or supervisor must be present. It is illegal to use or create a fake ID to obtain alcohol. Additionally, if anyone under the age of 21 is caught driving with a blood alcohol concentration (BAC) of 0.02% or higher, it is considered a crime.
People who are under 21 may drink alcohol in private locations if their parent, guardian, or spouse is present. Some parents allow this to help their children learn about alcohol in a safe and controlled environment. They believe it is better for youth to learn how to drink in their own home, rather than in risky settings like a fraternity house.
Other Nevada Alcohol Laws In Nevada
Selling Alcohol
Businesses with a license are authorized to sell beer, wine, and distilled spirits at all times. Distilled spirits include vodka, rum, tequila, bourbon, scotch, whiskey, and other similar drinks. As a result, grocery stores and convenience stores typically sell beer, wine, and spirits. In addition, certain package stores provide drive-through services.
Selling alcohol to individuals under 21 years of age in Nevada is prohibited by law, with jail time of up to six months and/or fines of up to $1,000. In addition, there is a $500 fine for selling alcohol online to those under the age of 21. The town of Panaca has had a ban on alcohol since its founding by Mormons in 1864, and selling any alcoholic beverages in Panaca is still illegal.
Buying Alcohol
In Nevada, people under 21 are not allowed to buy, possess, or consume alcohol except in certain circumstances. Breaking this law can result in up to six months in jail or fines of up to $1,000. If someone under 18 violates this law, they may face additional penalties including a suspension of their driver's license for at least 90 days and up to two years, a substance use evaluation, and mandatory rehab at their own expense.
Although there are no statewide laws banning open alcohol containers in public, many local regulations exist that prohibit such behavior. Different states have different laws regarding public intoxication, with some states legalizing it explicitly. Nevada is one such state, with state law preventing any county or town from making public intoxication illegal. It is important to note, however, that individuals under the age of 21 are not allowed to enter stand-alone bars, taverns, or saloons where serving alcohol is the primary business.
Driving and Alcohol
Driving with a blood alcohol concentration (BAC) of 0.08% or higher is considered a DUI offense in Nevada. Drivers under 21 can be charged with a DUI if their BAC is 0.02% or higher, while commercial drivers can be charged if their BAC reaches 0.04% or higher. Even if a driver's BAC is lower, they can still be convicted of a DUI by the court. That's because lower levels impair some people. On the other hand, many people have great tolerance. So illegal levels don't impair them. But they can't present this fact in their defense. The exact penalties for DUI depend on the facts.
First DUI Offense In Nevada
Jail for at least two days. Yet it might be up to six months. Alternatively, the judge may choose a sentence of 96 hours of community service.
A fine of at least $400. But it could be up to $1,000.
Driving license revocation for 90 days.
DUI school attendance.
Possible order to complete substance abuse treatment.
Click here for more information about first DUI offenses in Las Vegas, Nevada.
Second DUI Within Seven Years In Nevada
Jail or home arrest for at least ten days. However, it might be as long as six months.
A fine of at least $750. But it might be up to $1,000.
Driving license revocation for one year.
Community service of at least 100 hours. Nevertheless, it might be up to 200 hours.
Possibility of vehicle registration suspension.
Possible order for a substance-abuse treatment program or clinical supervision for up to one year.
Click here for more information about second DUI offenses in Las Vegas, Nevada.
Third DUI within Seven Years In Nevada
Jail for one to six years.
Fine of $2,000 to $5,000.
Driving license revocation for three years.
Possible suspension of vehicle registration
Click here for more information about third DUI offenses in Las Vegas, Nevada.
Defenses To Underage Drinking In Las Vegas, NV
There are numerous defenses to an underage drinking charge in Nevada, including:
The alcohol did not belong to the underage person
The search to find the evidence was illegal by the police
The underage person had the alcohol in their possession as part of a job (for example store clerk)
If you are facing underage drinking charges, it is crucial to seek legal representation from the Spartacus Law Firm. Even seemingly minor crimes like misdemeanors can have long-lasting consequences, such as damaging your employment record. An experienced criminal defense lawyer can explore various strategies to determine the best defense for your case. Contact us today for a free case review.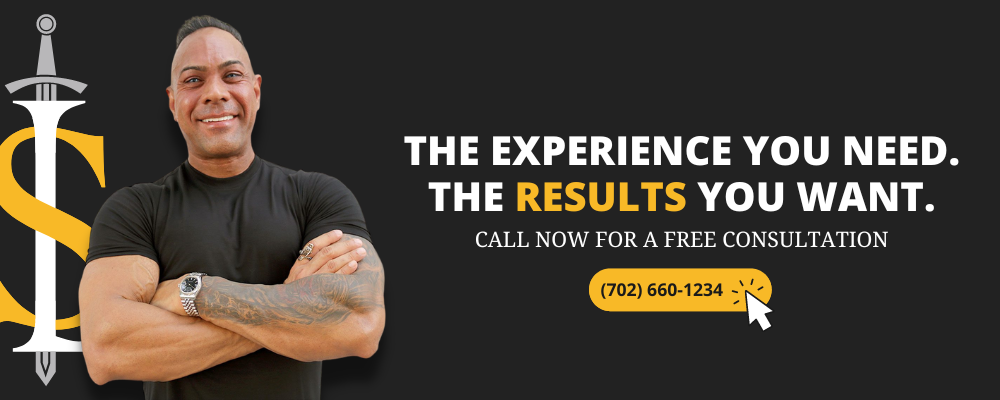 Frequently Asked Questions
What Is the Drinking Age In Las Vegas?
It is important to note that the legal drinking age in Las Vegas, just like anywhere else in the United States, is 21. If you're under 21, it is against Nevada law to consume or have alcohol unless you are with a parent or guardian. It is only legal for those who can prove they are 21 years or older with a valid photo ID to purchase and consume wine, beer, spirits, or liquor.
It is illegal to buy alcohol for someone under 21 years old, known as "contributing to the delinquency of a minor." This offense can result in immediate arrest and fines. Providing alcohol to a minor, drinking underage, or using a fake ID to purchase alcohol are also misdemeanors and can lead to fines and up to six months in jail. Las Vegas clubs and bars also enforce the 21-year age limit, so remember this when planning your next night out.
Can You Carry Glass Beverage Containers On The Vegas Strip?
It's legal to walk around the Vegas Strip with an open container, but only if it's not made of glass. Glass containers, even non-alcoholic ones, are not allowed to prevent litter on the streets and possible injuries. You can carry plastic, paper, or aluminum open containers with you, but for certain events, aluminum may not be permitted.
Can You Have An Open Container In A Vehicle?
Having open containers with alcohol in vehicles is strictly prohibited by Nevada law. This includes unsealed cans or uncorked bottles, whether you are driving or not. It also applies to passengers who are holding the container out of the driver's reach.
What Happens If You Serve Alcohol To Minors In Nevada?
With Christmas and New Year's fast approaching, there will be holiday parties across the state where minors may attend. If you are hosting a party, you may want it to be memorable, but before you consider giving alcohol to minors, you must consider the legal and civil consequences of doing so. In Nevada, anyone below the age of 21 is prohibited from consuming or holding alcohol in public. However, the law allows minors to possess alcoholic drinks if they are in the company of a parent or guardian who is at least 21 years old.
Providing alcohol to a minor who is below the legal drinking age is against the law. In Nevada, doing so is a misdemeanor offense that may result in up to six months of imprisonment and/or a maximum of $1,000 in fines. Depending on the quantity of alcohol supplied and the number of past convictions, the court may choose to substitute jail time or fines for community service.
What If A Minor Misrepresents Their Age?
It is illegal for minors to misrepresent their age as 21 or older at your party according to Nev. Rev. Statute Section 202.040. If caught, they could face up to six months in jail or a maximum fine of $1,000. If you're facing charges of serving alcohol to a minor, you may have a defense if they lied about their age. Contact our Las Vegas criminal defense lawyer right away.
Is Public Intoxication A Crime?
In Nevada, being drunk in public is not considered a crime. However, if a person is intoxicated, they may still be arrested for other related offenses such as:
Breaching the peace
Public urination
Trespass
Jaywalking
The stated offenses are categorized as misdemeanors and can lead to a maximum of six months imprisonment and/or a fine of up to $1,000. However, a misdemeanor is still a serious offense and should be handled by an experienced misdemeanor defense attorney in Las Vegas.
Contact Our Las Vegas Criminal Defense Lawyer Today
If you have questions about alcohol laws in Las Vegas or if you have been arrested in Nevada, please contact our Las Vegas criminal defense attorney for a consultation. Our legal team is available 24/7 and may be able to help you get your charges reduced or dismissed without a trial. Our goal is to do everything we can to keep you out of jail and maintain a clean record. Don't delay, contact the Spartacus Law Firm now to learn more about how we can help.