Las Vegas Real Estate License Defense Lawyer
License Defense For Real Estate Agents in Las Vegas, NV
Have you received an administrative complaint from the Nevada Real Estate Commission? Are you feeling anxious about the potential impact on your real estate career? We understand the effort you've put into becoming an agent or broker and the importance of protecting your professional license. Being part of this professional group entails upholding a high standard of expertise and integrity.
Real estate often involves critical decisions in people's lives when purchasing a home or commercial property. Unfortunately, there are instances when clients may not be satisfied with a transaction and decide to file a complaint against their real estate agent. What may appear as a minor comment or action can be misconstrued, leading others to question an individual's competence to practice in their chosen profession. If you're facing allegations against your real estate license in Nevada, contact our Las Vegas real estate license defense lawyer at the Spartacus Law Firm for a free consultation.
Common Real Estate License Enforcement Issues
If you are licensed through the Nevada Real Estate Commission, or if you should be, the division has the authority to investigate allegations of misconduct and, if necessary, take disciplinary action. Some common reasons for disciplinary hearings and sanctions include:
Engaging in unlicensed real estate activities
Engaging in deceptive or unfair marketing and advertising practices
Committing discriminatory acts
Violating state and federal fair housing laws
Brokers lending their name/license for the benefit of others
Brokers offering payments or gifts to unlicensed individuals for referrals
Brokers failing to disclose material facts about a property that the purchaser is unlikely to discover
Appraisers using inappropriate properties as sales comparables
Appraisers using inaccurate zoning descriptions
Appraisers using unverified data sources
Appraisers using an unsupported cost approach regarding value and depreciation
Appraisers intentionally omit negative information from market analyses
What Happens if a Complaint is Filed Against My Real Estate License?
Members of the general public can submit complaints to the Real Estate Commission against any real estate broker or salesperson. Upon receiving a complaint, the Commission will conduct an investigation.
If the Commission determines that administrative action may be necessary, the Commission's Administrator will serve you with a formal complaint outlining the allegations. You will be required to respond to the complaint within 30 days.
Failure to respond may result in the Commission entering a default judgment, potentially leading to the suspension or revocation of your license, as well as other penalties.
Administrative Hearings
Normally, the Commission arranges a hearing within 90 days of filing the complaint. It's important to note that you can continue to hold your license until the hearing concludes (in most cases). You must be provided with a minimum of 30 days' notice regarding the time and location of the hearing. Additionally, the Commission is obligated to provide you with all the relevant information pertaining to the complaint.
Communications
Reports
Affidavits
Depositions
The hearing is essentially an administrative proceeding, akin to a trial, where you have the option to be represented by an attorney. Your attorney can present evidence, cross-examine witnesses, and advocate on your behalf. Following the hearing, the Commission has 15 days to issue an informal decision and 60 days to provide written notice of the ruling. Disciplinary actions that may be imposed include:
Administrative fines of up to $10,000
Limitation on scope of license
No new renewals of license
License suspension
License revocation
Please be aware that the implementation of these disciplinary measures cannot occur until a minimum of 31 days after the Commission has officially notified you of its decision. In the event that the Commission rules against you, it is within your rights to seek a judicial review, which is akin to an appeal, of the decision. It is important to note that if your license is revoked, you will be ineligible for a new license for a period of at least one year. Contact our Las Vegas real estate license defense attorney for more information about how we can help.
Potential Penalties
Real estate brokers and salespeople can be subject to disciplinary action by the Nevada Real Estate Commission for a variety of offenses, including but not limited to:
Obtaining a license by fraudulent means,
Making a material misrepresentation,
Gross negligence or incompetence,
Refusing to sell property to someone due to prejudice, and/or
Deceitful, fraudulent, or dishonest dealings
The Commission holds administrative hearings to ascertain the occurrence of misconduct. Possible penalties encompass:
A $10,000 fine, and/or
A suspension, revocation, or limitation of the scope of your real estate license
If you are involved in administrative proceedings with the Commission, it is recommended that you reach out to our experienced Las Vegas real estate license defense lawyer. We can conduct an independent investigation and provide representation during the hearing. This will ensure that your interests are effectively safeguarded.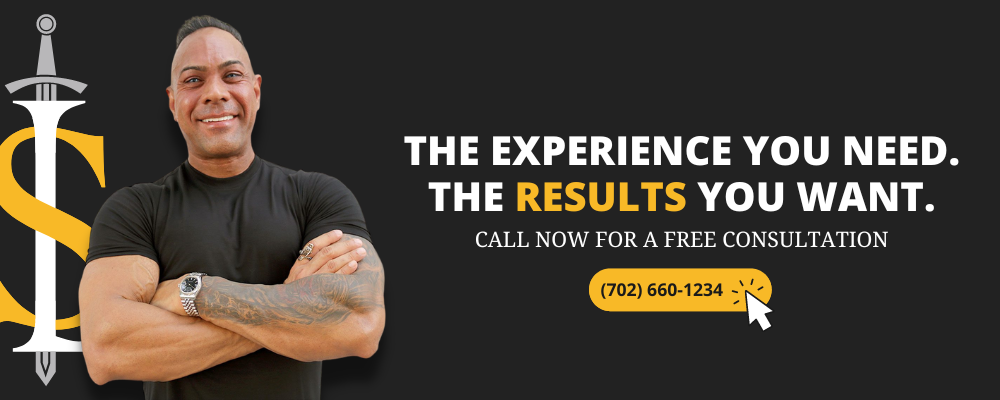 Frequently Asked Questions
Can You Get A Nevada Real Estate License With A Criminal Record?
While having a criminal record does not automatically disqualify you from applying, the Real Estate Commission may reject your application if you have been convicted of certain offenses in any U.S. state. These offenses include
Forgery
Obtaining money under false pretenses
Extortion
Engaging in a real property business without a license
Crimes involving moral turpitude such as violence, fraud, or theft.
If you have been convicted of any of these crimes, the Commission will deny your license application if less than 3 years have passed since the case was closed. It is worth noting that the Nevada real estate license application does not explicitly mention the disclosure of sealed or expunged criminal records.
However, it is advisable to seek legal counsel from a real estate license defense lawyer in Las Vegas before submitting your paperwork to ensure compliance with the latest laws and regulations. For more information on sealing criminal records in Nevada, please give us a call to learn more about the process.
Can I Go To Jail For Brokering Real Estate In Nevada Without A License?
For a first-time offense, a fine is more probable than imprisonment. Engaging in the business of a real property broker or salesman without a current and valid license from the Nevada Real Estate Commission is considered a gross misdemeanor. This offense carries a penalty of:
Up to $2,000 in fines, and/or
Up to 364 days in jail (at the judge's discretion)
Under Nevada law, severe penalties are imposed for the act of obtaining or attempting to obtain a real property license through intentional misrepresentation, deceit, or fraud. This offense is classified as a category D felony, carrying significant consequences.
1 – 4 years in Nevada State Prison, and
Up to $5,000 in fines (at the judge's discretion)
It should go without saying that individuals with previous convictions for unlicensed brokering or fraudulent acquisition of a license will face an increased likelihood of being denied a real property license in the future.
Contact Our Las Vegas Real Estate License Defense Lawyer Now
If you find yourself facing a complaint, it is crucial to reach out to our Las Vegas real estate license defense lawyer as soon as possible. At the Spartacus Law Firm, our experienced criminal defense team will assist you throughout every step of the process and devise the most appropriate course of action based on the allegations outlined in the complaint. Contact our office now for a free consultation and learn more about how we can help you.