First DUI Offense In Las Vegas, NV
First DUI In Las Vegas? Don't Panic
Although the penalties for a first DUI in Las Vegas can be harsh, it's essential to understand that there are defenses that exist under Nevada law to protect you from a DUI conviction. For example, the dismissal of the charges if there is not enough evidence to support the prosecutor's claim. Representation from an experienced 
first DUI lawyer
 directly after a DUI arrest gives you the best chance for the optimal outcome. There are critical deadlines that exist with these types of charges, so the sooner you have legal representation, the better. If you're facing charges for your first DUI offense in Nevada, contact the Spartacus Law Firm for a free consultation today.
Penalties For First DUI In Las Vegas, NV
Las Vegas has earned a reputation for being the city that never sleeps. With alcohol being served 24 hours a day, the Las Vegas police take driving under the influence very seriously, and the penalties for a first time DUI are among the harshest in the country. The state of Nevada, especially Clark County, has taken a proactive and aggressive approach to keep the roads safe and DUI-free. Penalties for DUIs can generally be broken down into two categories, criminal penalties, and administrative penalties.
Criminal Penalties For First DUI Offense In Las Vegas
Criminal penalties for a first DUI offense in Nevada are given once the driver is convicted of driving under the influence. Although the penalties for 
second DUI
 and 
third DUI charges
are more severe, a first time conviction can still carry hefty consequences if not handled correctly. Criminal penalties for a first time DUI will depend on your particular circumstances. The most common penalties for someone's first DUI in Las Vegas include:
Standard First DUI
Drivers convicted of a first DUI must serve either two days to six months in jail or perform 48 to 96 hours of community service while wearing clothing that identifies the driver as someone convicted of DUI. The fine ranges from $400 to $1000. Convicted drivers are also required to pay for and attend an educational course on drug and alcohol abuse and install an IID on their car for 185 days as a condition for getting their license back.
First DUI With BAC Of .18% Or More
Penalties are more serious for a driver if they have a BAC of .18% or higher. On top of the standard first DUI penalties mentioned above, you may also be required to install an 
ignition interlock device
 (IID) for a period of 12 to 36 months. Along with an IID, you may also be required to attend a 
drug
and alcohol treatment program.
Felony DUI
If you've been convicted of a DUI that resulted in 
wrongful death
 or 
substantial injury
to another motorist or pedestrian, you could face extensive jail time. Nevada law states that someone convicted of a felony DUI could face anywhere between 2 to 20 years in prison and must pay a fine ranging from $2,000 to $5,000.
Other Penalties For First DUI Offense In Las Vegas
There are also other potential penalties you may face outside of criminal penalties. In fact, there are a handful of administrative penalties that can be given by the Nevada Department of Motor Vehicles. If the field sobriety test you've taken after being pulled over indicates a BAC of .08% or more, drugs in your system without a prescription, or if you refuse to take these tests altogether, you'll lose your driver's license. For a first DUI in Las Vegas, administrative penalties include:
Drivers whose blood or breathalyzer results reveal a BAC of .08% or more will have their license suspended for 90 days.
Must attend a state-approved alcohol awareness program
Motorists who refuse a chemical test in violation of Nevada's implied consent laws will face a one-year revocation of their driver's license.

Motorists who refuse two or more times within a seven-year period face a three-year administrative driver's license revocation.

Attendance at a MADD Victim Impact Panel
Orders for an ignition interlock device (IID)
However, these penalties are not set in stone. If the Nevada DMV revokes your license, you can request a hearing to challenge the revocation. If you don't request a 
DMV administrative hearing
 in writing, you forfeit your right to challenge an administrative suspension. Having an experienced 
DUI defense attorney
by your side during this process can be critical for a successful challenge. One of the immediate benefits of requesting a hearing is that the DMV may issue you a temporary driver's license that allows you to drive while the DMV conducts its review.
Defending Against A First DUI In Las Vegas
First Offense DUI charges in Las Vegas are almost never cut and dry. Even if your breathalyzer or blood test came back over the limit, there are often many issues an experienced DUI lawyer can use to get the charges reduced – or even dismissed. Your case will be meticulously reviewed to understand all information in your case. Seeking inconsistencies or oversights that can turn the case proceedings in your favor. Below are some of the more common defenses for a first offense DUI in Las Vegas.
Blood testing equipment malfunction or misuse
Lack of experience or care from equipment handlers
Lack of probable cause from the police officer
Improper procedure with the field sobriety test
The defendant's physical condition inadvertently affected the results of the blood test
DUI Treatment Programs In Nevada
If you've been charged with your first DUI in Las Vegas you may be able to apply with the court to undergo a treatment program prior to sentencing. If the court accepts, the judge can suspend your sentence for up to three years to give you the time needed to successfully complete the treatment program. According to 
NRS 484C.320
, you may apply to attend an alcohol treatment program to avoid being sentenced and sent to jail if your BAC was less than 0.18. However, in order to take advantage of this option, you must agree to the following:
Be formally diagnosed as an alcoholic or drug addict
Pay the costs of treatment out of your own pocket
Serve at least one day in jail or perform 24 hours of community service
90 days of house arrest with no alcohol in the home
Routine status checks before the judge
Electronic monitoring of your whereabouts
Random alcohol or drug testing
Individual and group counseling
If entered into the DUI treatment program, it must last at least 6 months and can include ongoing monitoring for up to three years. If you successfully complete the DUI treatment program, the judge can reduce your sentence to the day served in jail or community service performed and limit the fine to $400. However, if you fail to complete the DUI treatment program, you can face 6 months in jail, a $1,000 fine and a six-month driver's license revocation.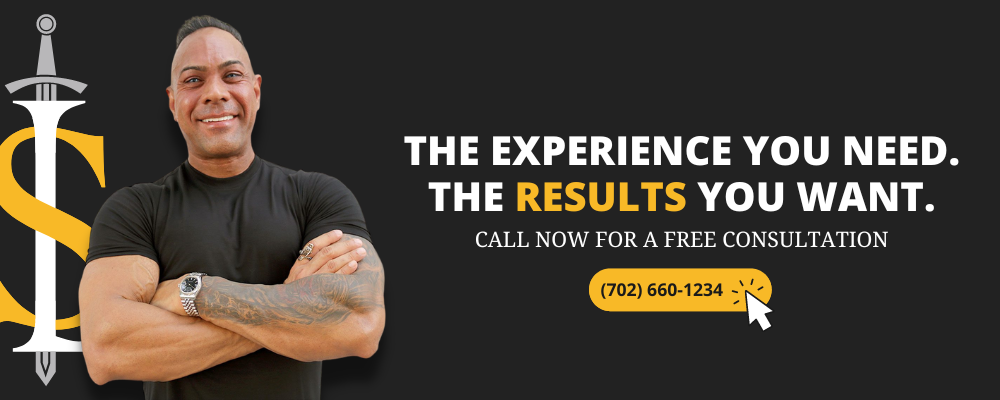 Frequently Asked Questions
Should I Get A Lawyer For My First DUI?
First offense DUIs can not only have harsh penalties but can stick with you for the rest of your life. If you have the opportunity to mitigate or dismiss charges altogether, you must. Even if it's your first DUI arrest in Nevada, prosecutors in Clark County will likely seek the maximum sentence, and if you do not have professional defense to combat their attempts, they may succeed. Remember, being accused of driving under the influence is not the same as being convicted of DUI. Contact our skilled 
criminal defense lawyer 
at the Spartacus Law Firm to discuss your case and begin planning your defense.
Can You Go To Jail For Your First DUI?
Yes, you can serve jail time for your first DUI in Nevada. However, the maximum jail time for a first DUI is six months and most first-time DUI offenders do not serve that much time, if any at all. The courts of Nevada have the option to 
suspend the jail time
entirely based on the circumstances of the charge. Simply put, a suspended sentence for a DUI charge means that you will not serve jail time so long as you agree and follow the terms of probation. If you're arrested for a first time DUI in Las Vegas, don't panic. A skilled Las Vegas DUI defense attorney can guide you through the legal process and present you with the best chance of not seeing the inside of a jail cell.
What Are The Fines For A First Offense DUI In Nevada?
The maximum fine for someone's first DUI in Las Vegas is $1,000. However, there are often add-on fees associated with a DUI charge. For example, there could be court costs on top of the initial fine. Although the max fine for a first time DUI is $1,000, most first time offenders will not pay that much. To secure the lowest possible fine amount, it's wise to secure representation from a qualified criminal defense lawyer who specializes in first offense DUIs in Nevada.
Can A First Time DUI Be Dismissed Or Dropped?
Depending on the circumstances of the DUI, a first time offense of driving under the influence in Nevada can be dismissed or reduced to reckless driving. Although it's possible, Nevada prosecutors are prohibited from pleading down DUI charges unless a guilty verdict is not feasible. This is exactly why having an experienced Clark County DUI lawyer by your side during this process is so valuable. Your attorney can work to convince the court the evidence presented is not enough for a clean-cut conviction.
First DUI In Las Vegas? Contact The Spartacus Law Firm
If you have been charged with driving under the influence for the first time in Las Vegas, Clark County or Nevada, contact the Spartacus Law Firm as soon as possible to discuss your case. A first offense DUI in Las Vegas is more common than you may think, and you are certainly not alone. However, without the right legal approach, you could face strict penalties. The Spartacus Law Firm has also been recognized as a 
top-ranked DUI law firm
 and will fight to make sure that your rights are protected. Our mission is to help you mitigate consequences and help you move on from a mistake. Call the Spartacus Law Firm today for a free consultation.