Las Vegas Prostitution & Solicitation Attorney
Prostitution & Solicitation Charges In Las Vegas, Nevada
Although some out-of-towners might think that all forms of prostitution are legal in Las Vegas, that is certainly not the case. Prostitution might be allowed in other parts of Nevada, but it's undoubtedly illegal within Clark County, which includes Las Vegas. So if you don't want to get caught up on solicitation charges, brush up on your understanding of what constitutes both solicitation and prostitution. And know that if you do end up getting charged with either one while you're in Sin City, there are still criminal defense options available for you.
At the Spartacus Law Firm, our priority is to ensure that you receive the best legal defense possible. Our experienced Las Vegas solicitation defense attorney will work tirelessly on your case and provide you with the resources and knowledge you need to win in court. We offer a free initial consultation so that we can assess your case and determine how we can best help you. Contact us today to schedule your appointment and learn more about how we can help.
Prostitution vs Solicitation
In Nevada, sex crimes come in many different forms, but prostitution and solicitation are two of the most common. In the state of Nevada, there is no legal difference between prostitution (selling sex acts in exchange for money) and soliciting prostitution (offering or agreeing to sell sex acts in exchange for money). Both actions break the law, and you will be subject to the same punishment whether any sexual activity took place or not. Most people who are arrested on suspicion of engaging in prostitution are caught by undercover officers while they are attempting to solicit customers in public places like bars or restrooms.
Penalties For Prostitution & Solicitation Charges In Las Vegas
Prostitution is a misdemeanor under Nevada state law, NRS 201.354. A sex worker who is convicted may face imprisonment of up to six months and a fine of at least $400. The soliciting of a minor for prostitution (someone under the age of 18) is considered a felony in Nevada. As you can see, this crime has considerably stiffer repercussions:
First Solicitation Offense – A first offense is a

Category D felony

punishable by a fine of up to $5,000 and a prison term of 1-4 years.

Second Solicitation Offense – A second offense is considered a

Category C felony

and is punishable by 1-5 years in prison and a fine of up to $10,000.

Third Solicitation Offense – A third offense is considered a

Category B felony

and is punishable by a prison term of 1-6 years and a fine of up to $15,000. Third-time offenders are not eligible for probation or a sentence suspension.
Pandering & Sex Trafficking Charges In Las Vegas
NRS 201.300: pandering is defined as the act of persuading, encouraging, or causing another person to unlawfully take part in prostitution.
If the person is persuaded to do something without the threat or fear of retaliation, this is a crime. If someone incentivizes another to engage in sexual conduct for money without using physical force, it's pandering. This is considered a Category C felony and carries a sentence ranging from one year to five years in jail along with a fine of up to $10,000. However, if someone is charged with sex trafficking because he or she:
Induces a child to engage in prostitution or to enter a place where prostitution is allowed

Induces a person to engage in prostitution with disregard that force or threats will be used

Threatens or intimidates a person to engage in prostitution

Takes a person with force or by threats with the intent that the person will marry him or her or another person
If someone is convicted of sex trafficking, they may be charged with a Category B felony in Nevada. This is punishable by imprisonment for three to 10 years and a fine of up to $10,000 according to NRS 201.300.
Internet/Online Solicitation Charges
To "solicit" something is to ask or petition for something. Some definitions even describe it as "urgently ask." What then does it mean when we speak of online solicitation? Online solicitation can be charged as a sex crime, particularly when it involves someone under the age of 18. Solicitation can also refer to prostitution. While solicitation can carry a number of different connotations, it is typically charged as a sex crime against a minor. In the state of Nevada, soliciting a minor to engage in an "infamous crime against nature" is prohibited by NRS § 201.195.
It is also possible to be charged with open and gross lewdness with a minor under the age of 14 if you request a minor through an internet chat room or another online medium for sexual gratification. Chat rooms and the like are notorious for sex crime accusations. If you were accused of requesting sexual services, pictures, or anything similar from a child over the internet, you should contact our Las Vegas solicitation defense attorney right away. Regardless of how complicated or complex your situation appears, you can trust our firm to give you the legal assistance you need.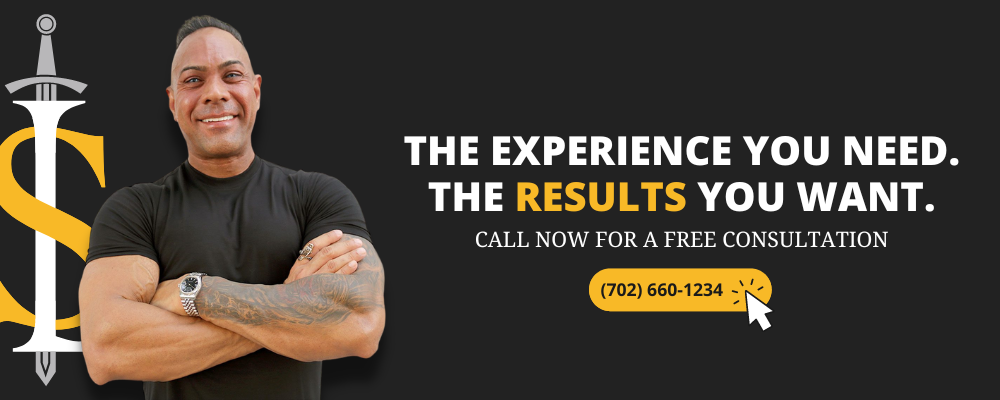 Frequently Asked Questions
What Are The Defenses To Prostitution & Solicitation Charges In Nevada?
The most typical defense to Nevada solicitation charges is that you did not knowingly propose – or agree to trade – sexual services for money. Sex workers frequently use coded language, and it's possible that you misunderstood what was being said. Unless there was an overt act of solicitation, the charge should be dropped.
Another possible defense is that you were entrapped by the police during a solicitation sting operation. If the undercover police officer pressured you into solicitation when you showed no prior inclination to do so – and would not have done it but for said pressure – then the police committed entrapment. Depending on the case, any money exchanged can be argued as unconnected to sexual conduct; potentially just a loan or payment for some other good or service.
Can Prostitution & Solicitation Charges Be Dismissed?
More often than not, Las Vegas prosecutors are willing to let go of first-time solicitation or prostitution charges if the individual agrees to this plea bargain:
Paying a fine

Community service

Attending an AIDS Awareness class
The sentence will be dismissed with no time in jail once you have completed the conditions. In some instances, prosecutors who are hesitant to dismiss the matter may accept a lesser charge change instead of dismissing the case entirely. Disorderly conduct (NRS 207.200) and trespass (NRS 207.200) are examples of this. If you're facing prostitution or solicitation charges in Nevada, you may be able to get your charges dismissed. Contact our Las Vegas prostitution and solicitation attorney today.
Is Prostitution Legal In Nevada?
Although prostitution and the solicitation of prostitution are illegal under Nevada state law, there are a few rural counties where it is allowed in licensed establishments. All other forms of prostitution, including brothels, remain completely illegal in places like Las Vegas, North Las Vegas, Henderson, Reno, and Carson City. Nevada law does not outright forbid escort services, but many people believe them to be fronts for prostitution. Law enforcement in Las Vegas will sometimes go undercover as "johns," or men who buy prostitutes' time and company, to apprehend those breaking the law.
Only in the following Nevada counties is regulated, licensed brothel prostitution currently lawful:
Churchill County

Elko County (only in incorporated Elko, Carlin, Wendover, and Wells)

Esmeralda County

Humbolt County (only in incorporated Winnemucca)

Lander County

Lyon County (only in Mound House)

Mineral County

Nye County

Storey County

White Pine County (only in incorporated Ely)
Outside Nevada's legal brothels, these counties ban any form of prostitution. All sex workers working for a properly licensed house of prostitution are required by law to meet the following guidelines:
Be adults,

Have work cards,

Get paid fair wages,

Work of their own free will, and

Regularly test for sexually transmitted diseases, such as syphilis and HIV.
Examples of illegal prostitution in Nevada include:
Streetwalking,

Escort services, and

"Happy ending" massage parlors
Are Escorts Legal In Las Vegas?
Escort services are legal in Las Vegas as long as:
They work for an "escort bureau," which has a current and valid business license;

The escorts have current and valid

work cards

;

The escorts only provide service by accompanying patrons to social events;

The escort bureau does not advertise sexual services.
In reality, most escort agencies are fronts for prostitution. Police frequently conduct undercover stings to catch escorts offering or agreeing to trade money for sex. However, this can sometimes be considered entrapment and be used as a viable defense on your behalf. If you're facing similar charges, contact our Las Vegas prostitution and solicitation attorney today.
Contact Our Las Vegas Solicitation Defense Attorney Today
If you've been charged with prostitution or solicitation in Nevada, you must seek legal counsel as soon as possible to avoid harsh and life-altering penalties. Our Las Vegas solicitation defense attorney, Chandon Alexander, routinely represents sex crime cases and will have the legal knowledge you need to secure the best possible outcome in your case. Contact the Spartacus Law Firm today for a free consultation and to learn more about how we can help.